COULD I HAVE
NASAL POLYPS?
HARRIS POLL SURVEY RESULTS*
Nearly

1/4

of chronic nasal congestion sufferers said they experience nasal congestion every day

56%

of nasal congestion sufferers are unaware that nasal polyps could be the cause of their symptoms

85%

of nasal congestion sufferers said nasal congestion impacts their daily life, with a resounding 60% saying it impacts their ability to get a good night's sleep

41%

of nasal congestion sufferers said their ability to smell is impacted by their nasal congestion

<50%

of nasal congestion sufferers sought a diagnosis from an allergist/immunologist, ear, nose and throat (ENT) specialist, or other specialist, indicating that many people are not seeking medical care to look deeper at the problem or taking advantage of treatments that are available to help relieve symptoms

*The survey was conducted online within the United States by The Harris Poll on behalf of Optinose March 23-25 2021, among 2,016 US adults aged 18 years and older, of whom 529 have experienced chronic nasal congestion (ie, stuffy nose for 12 weeks (3 months) or more in the last year). This online survey is not based on a probability sample and therefore no estimate of theoretical sampling error can be calculated.
WHAT ARE NASAL POLYPS?
CHRONIC NASAL CONGESTION?
IT COULD BE NASAL POLYPS
If you have nasal polyps or think you might, know that they are pretty common. In fact, about 1 in 25 adults in the United States have nasal polyps. They result from chronic inflammation and can occur high and deep within your nasal passages and sinuses. This makes them difficult to see with a routine nasal exam. Many people who have nasal polyps do not know they have them.
The symptoms of nasal polyps last at least 3 months. Because nasal polyps and associated inflammation block passages high and deep in the nose, standard nasal sprays may have a hard time reaching them. This may be why you're not getting the relief you need.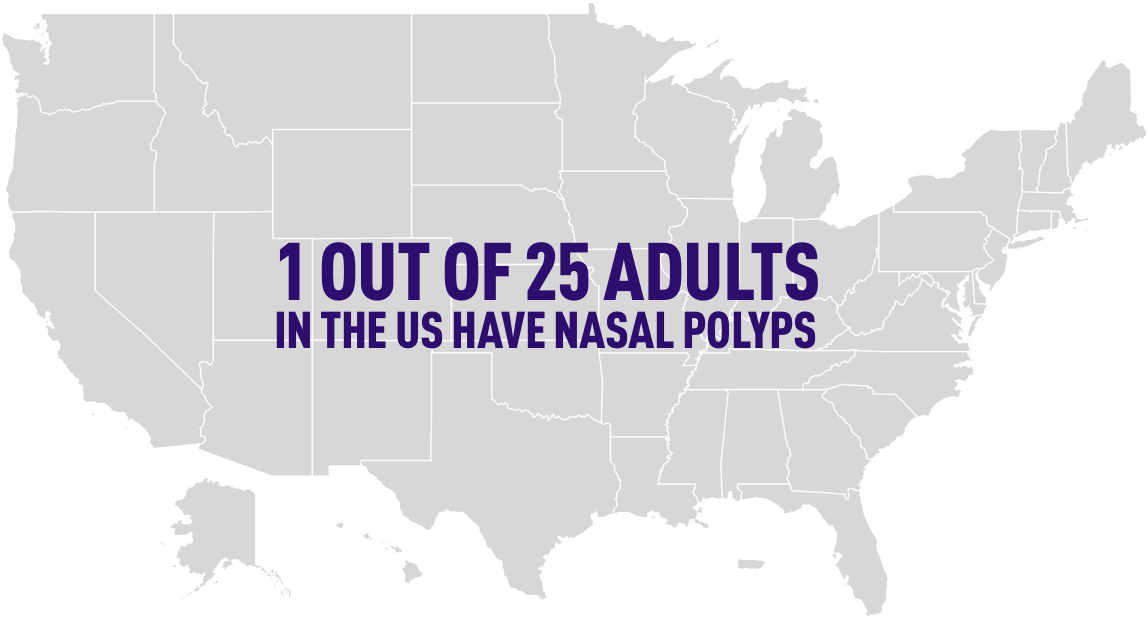 NASAL POLYPS ARE HIGH
AND DEEP INSIDE THE NOSE
Nasal polyps are soft, noncancerous (or benign) growths high in the lining of your nasal passages or sinuses. Larger growths or groups of nasal polyps can block your nasal passages and sinuses.
Medicine can shrink or eliminate nasal polyps. Many people feel their symptoms improve over time when their medicine targets inflammation at the source of the problem. For some people, surgery is needed to remove nasal polyps.
If you would like to know more, take a look at frequently asked questions about understanding nasal polyps.
SIGNS AND SYMPTOMS
There are 4 core symptoms of nasal polyps
The symptoms of nasal polyps can be very uncomfortable. Everyone has a different experience, and some symptoms may feel worse than others. The symptoms of nasal polyps last at least 3 months and include nasal congestion and at least 1 of the other symptoms below.




CHECK YOUR SYMPTOMS AND TALK TO A SPECIALIST

If you think you may have nasal polyps, talking to an ear, nose, and throat (ENT) specialist or allergist is the first step. Use this short questionnaire† to see if your symptoms match up. You can fill it out by first downloading and saving it to your smart phone or computer, or print it out to bring to your next appointment. It may help you start a conversation with your doctor about your symptoms.

†

This is not a diagnostic tool. Only your doctor can diagnose your condition.

WHO GETS
NASAL POLYPS?
Nasal polyps are more common in people with allergies, chronic sinus infections, or asthma. Although nasal polyps can occur at any age, they are more common in people in their 30s or 40s.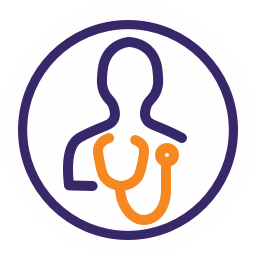 WHAT TO EXPECT DURING
YOUR FIRST VISIT
Nasal polyps occur high and deep in the nasal passages and are hard for a doctor to see without special tools or imaging exams, such as a CT scan. If you think you may have nasal polyps, you should see a doctor who specializes in treating them. Both ear, nose, and throat (ENT) specialists and allergists can diagnose and treat nasal polyps.
A specialist can usually diagnose nasal polyps in a physical exam. Here's what you can expect:
They will ask about your symptoms
They may use a special lighted instrument to look deep inside your sinuses
Your family history may also play a role
For some people, imaging exams may be needed to better see inflammation inside the nose and sinuses
CT=computed tomography.
NASAL POLYPS NEED
LONG-TERM TREATMENT
The good news is that there are treatments that can shrink or even eliminate nasal polyps. In some people, surgery is needed to remove them. Unfortunately, even after successful initial treatment, nasal polyps often return. This is true even with surgery.
Long-term treatment is necessary to manage nasal polyps. Medicine can make polyps shrink or even disappear. You'll work with your specialist to find the right treatment approach to improve your symptoms.
Optinose is providing access to this service to help patients find healthcare professionals in their area who have experience with ENT/Allergy. Optinose makes no warranty as to the credentials, skill, or outcomes of the listed providers. This healthcare professional locator tool is provided for informational purposes only, and is just one source of information available to you.
Important Safety Information
Do not use XHANCE if you are allergic to fluticasone propionate or any of the ingredients in XHANCE. Get emergency medical care if you get any of these signs of a serious allergic reaction: rash, hives, swelling of your face, mouth, and tongue, breathing problems, or low blood pressure.
Tell your healthcare provider about all your medical conditions and medications that you take. It is especially important to mention if you take antifungal or anti-HIV medicines as they may interact with XHANCE.
XHANCE can cause nasal problems such as nosebleeds, crusting, sores, hole in the septum, and slow wound healing.
XHANCE can cause eye problems including glaucoma and cataracts. You should have regular eye exams when using XHANCE.
XHANCE may increase the risk of infections and can make certain infections worse. Avoid contact with people who have a contagious disease such as chickenpox or measles while using XHANCE.
XHANCE can cause reduced production of steroid hormones by your adrenal gland, resulting in tiredness, weakness, nausea and vomiting, and low blood pressure.
XHANCE can weaken bones (osteoporosis).
Other side effects may include redness, pain, or swelling of the nose or throat, thrush (fungal infection of the nose and throat), nasal congestion, sinus infection and headache.
These are not all the side effects of XHANCE. Call your doctor for medical advice about side effects. You may report side effects to the FDA at 1-800-FDA-1088.
Indication
XHANCE is a prescription medicine used to treat nasal polyps in adults.
Please see Patient Information, full Prescribing Information, and Instructions for Use.